We Rounded Up the 7 Best AI Resources for Businesses
AI for content creation has become a bit of a hot-button topic lately. Some people are excited and embracing the innovative new technology behind AI software like ChatGPT, while others fear we're entering a sci-fi era of sentient robots with malicious intent.
But another, ever-evolving debate about the ethics of AI has come from career creatives: writers, artists, graphic designers, and the like. Some creatives worry that AI is going to make their jobs obsolete.
As we touched on in our previous blog about ChatGPT, we disagree with the notion that AI is going to be replacing creative jobs anytime soon. AI is not great at creating content that offers original ideas or novel input on a subject. It can't form opinions on its own. It can only pull from content that already exists and mimic it. In addition, it can't see the bigger picture of your brand or adopt your brand voice as well as a human could.
AI can instead be used to supplement human work by making the process of creating easier, and taking over some of the more menial, time-consuming aspects of creation, like generating color palettes. AI can even write social media captions and create full assets based on prompts. Even though the assets that AI creates may not necessarily be perfect, AI tools can help career creatives move the process of building assets along much quicker. Instead of starting from scratch, you can start with a template or partially created asset.
We've scoured the web and come up with the best AI apps creative teams and UX professionals can use to make their lives easier and their content cleaner.
Why use AI as a business?
Rather than replacing teams with AI software, AI can be used to aid creative and UX teams in their day to day responsibilities, from design to data reporting. AI has been shown to help businesses:
Increase productivity by reducing the amount of time it takes to perform tasks.
Architect a better user experience through user data collection and premade UX components.
Elevate brand design with tools that generate color palettes and logo ideas.
Automate data analysis and visualization using smart spreadsheet tools.
Here are some of the best AI tools, sorted by purpose.
Tools for social media and ads content
Social media content creation can feel like an endless churn at times, as demand for content increases and ROI decreases. These tools can do everything from photo editing and text animation to fully creating assets for you.
TypeLoop
TypeLoop is an app available on Apple devices. It lets you easily add animated text to photos and videos.

The interface is simple and quite intuitive. With a couple taps, you can give your visual content a modern feel and really make it pop. The app offers tons of different animations, colors, and fonts. You can adjust the spacing between letters and the velocity of the animations.
Here's a quick demonstration I made:

The app costs $9.99/month, but you can try it out first with a free 3-day trial.
PredisAI
PredisAI is like ChatGPT, but has a visual element in addition to copywriting. You can use it to generate social media posts, choosing between a single image, carousel, or video post. You simply pick from a list of premade post types such as Business or Idea, which have fields based on their category, and answer a few questions or input a concept for the post. You can also add your brand colors, social media handles, logo, and website so the posts will be tailored to your usual style.

Here I chose "Idea" and inputted "Tips & Tricks for increasing email clickthrough rate" as a prompt.

You can also choose to create the post manually without any preset questions, and customize it as you see fit.
This is what it spit out in response to my prompt: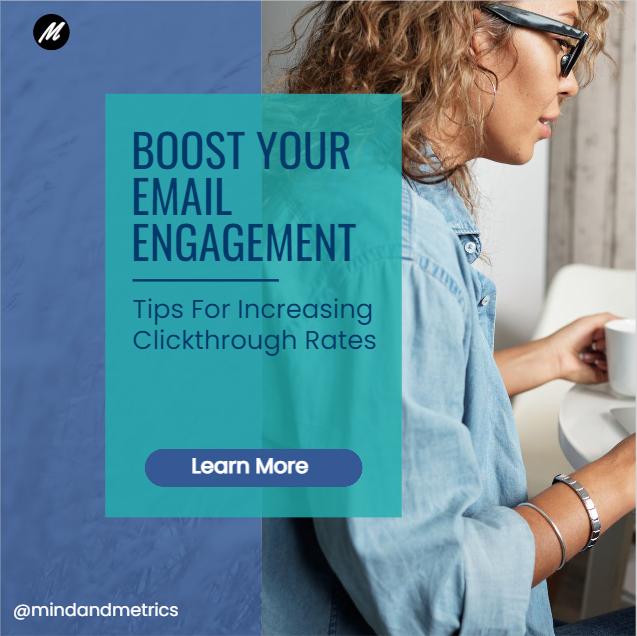 Once the post is generated, you're able to fully customize it within the platform. You can change the image, font size, and color, and add simple design elements.
Adcreative.AI
Similar to Predis.AI but more tailored to paid ad content, Adcreative.AI is simple to use and easily generates ad content for your campaigns.
To use it, you upload your brand logo and pick a color scheme, then choose the size of your asset based on what platform you're going to be posting on. You can write your own headlines, or have the AI write them for you. Then, you upload a background image or select one from their stock of royalty-free images.

Adcreative.AI lets you come up with paid media content quickly and easily, so you can move forward with promoting your brand.
Tools for improving UX and website functionality
Your web dev team doesn't have to create every asset on your website entirely from scratch. Here's where you can find a library of free premade UI tools.
Uiverse.Io
Website architecture has so many moving parts. Even loading screens and buttons need to be built. And all these little creations add up to hours and hours of work, especially if you're not using a drag-and-drop website builder.

Of course you want your website to represent your brand, and for each little design element to be curated accordingly. But web developers may struggle to build it all while still meeting deadlines.

Faced with time crunches, you may feel the need to resort to downloading a million plugins that bog down your site's load speed. Or alternatively, you may find yourself spending hours browsing StackExchange hoping someone in a forum thread posted code you could use.

Uiverse.Io can save your company lots of time. This site is filled with website assets built with HTML and CSS. They're all open-source and free to download. From animated buttons to full-blown forms, Uiverse.Io is there to help do some of the heavy lifting that comes with website customization.
Tools for elevating brand design
A big decision when starting a new company is how to represent the brand visually. How do you choose a signature font and color scheme? It always helps to be presented with some options rather than starting from scratch.
Huemint
Huemint is a simple tool you can use to create unique color schemes for your brand or website. It comes preloaded with several default palettes, which you can then customize. You view the palettes by clicking "generate", and if you see a color you like you can lock it. If you then click "generate" again, the AI will take the locked color into account when coming up with future palettes.

Huemint has many pre-generated web pages and designs that incorporate the palettes. This way, you can see how your colors will work on a webpage or as a schema for social media graphics. Its AI also auto-detects which colors will look best as the background, text colors, accents, etc.
Looka
Looka uses AI to design brand logos. You type in your brand name, choose what industry you're in, and pick from a list of designs that have previously been generated by Looka so it gets an idea of what you're looking for. Once it comes up with templates, you can then customize them however you like.

This is what it came up with right off the bat for Mind & Metrics.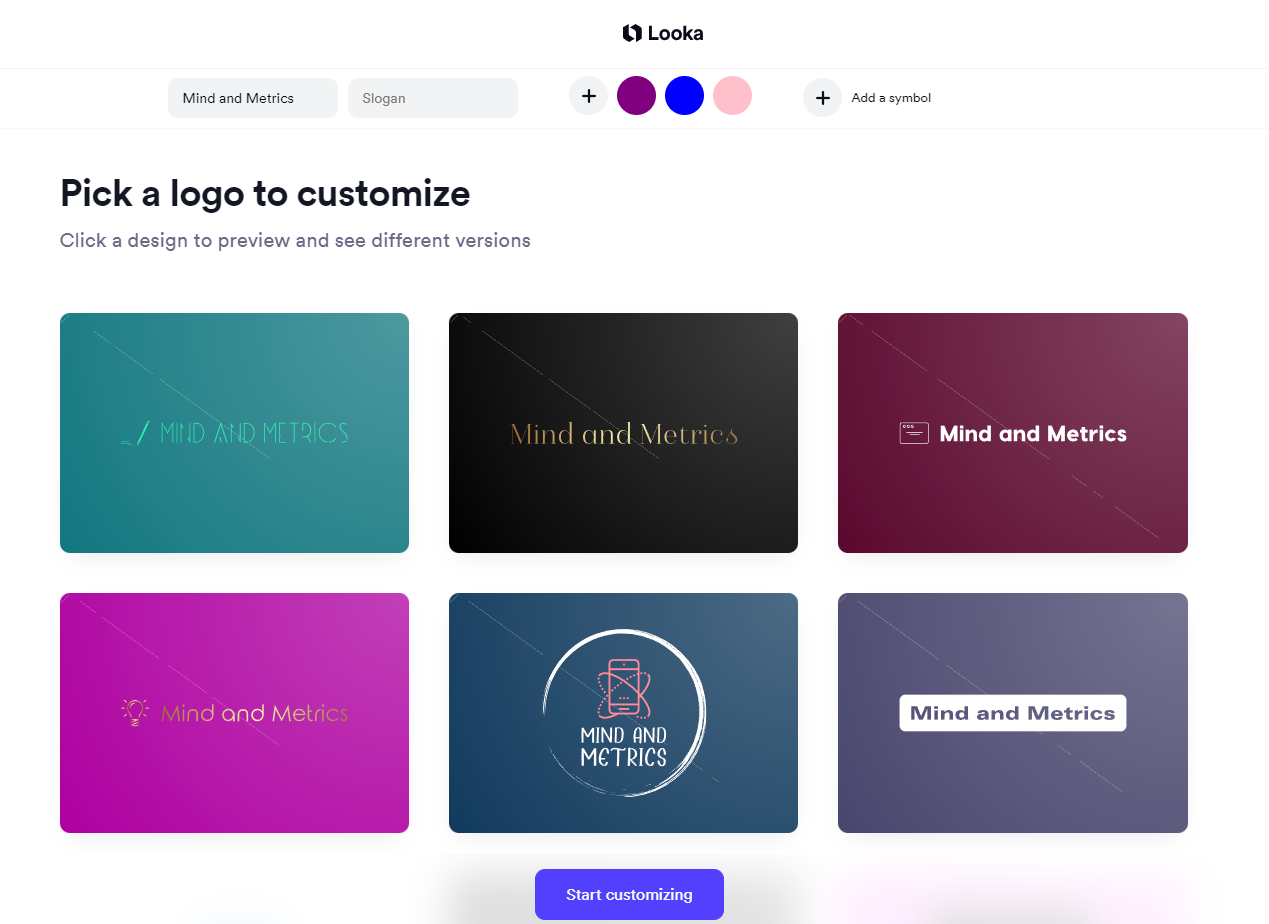 Tools for data visualization
Creating reports is notoriously time-consuming. AI can help save you time by generating graphs based on spreadsheets.
GRID.Is
GRID.Is is an AI-powered lightweight spreadsheet program that lets you analyze data and create charts and graphs easily. All you have to do is upload your spreadsheet or paste your data into a GRID sheet, select what type of graph you want, and designate the X and Y axes.

GRID.is also integrates with online programs like Google Sheets so you can easily pour all your data into it.

For more information, check out their tutorial video.
Want to keep reading?
While AI isn't a substitute for human talent, it can certainly make the day-to-day lives of creatives easier.

Looking for more ways to minimize wasted time and maximize ROI? Reevaluating your customer journey and buyer personas can help you ensure you're getting your content in front of the right people, thus leading to better conversion. Learn more about optimizing the customer experience in our blog post.
(The graphic below was created with the help of Predis.AI!)
« Want to Use ChatGPT for Blogging? Watch Out for These 5 Issues
Customer Acquisition Costs on the Rise? Data Privacy Changes May Be Why »